HDM is unleashing the potential of healthcare data with connectIT!
We are on the move again to revolutionize patient care management and unleash the potential of healthcare data and technology.
Today, Health Data Movers officially announced the launch of connectIT — a dynamic, diverse digital ecosystem of products engineered to improve patient care and help companies sustainably increase sales. This suite of tools makes navigating complex pathways easy — every aspect is smooth and focused on establishing and elevating connections with patients and vendors.
For third party vendors, the seamless integration with Epic will make placing orders simple, allowing for provider and patient to receive result notifications, track orders, and exchange billing information.
"The healthcare IT industry can be a tangled maze and health records exist in various forms," says Brian Battistone, Chief Technology Officer with HDM. "Through connectIT by Health Data Movers, we are streamlining that system and bringing together multiple generations of data into one unified, modern platform that allows you to focus on what you do best — provide patient care."
HDM connectIT is another way we are continuing to expand our support for health systems and their vendors.
The connectIT breakdown
The connectIT ecosystem consists of three main approaches to supporting your business. Use one or pick all three to find the best system for you and your patients.
convertIT simplifies the data conversion process and makes it easy to map, test, and migrate large volumes of records.
orderIT seamlessly integrates with Epic to place orders with third party vendors.
scheduleIT connects and manages provider schedules.
In fact, convertIT is already live on Epic App Orchard, making it even easier to convert your data into Epic. This connection with one of the most widely-used and comprehensive health records systems makes it a simple, yet impactful, improvement for many in the industry.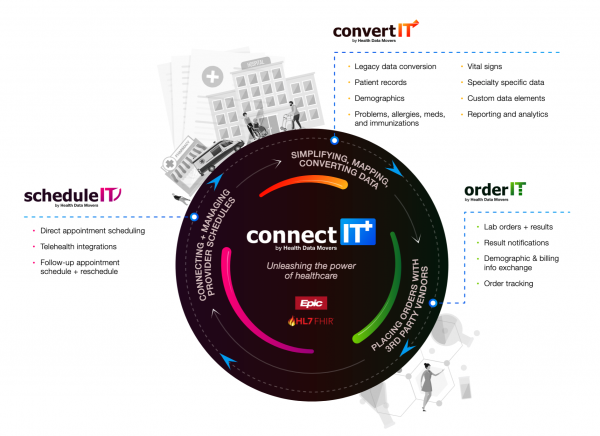 Why does this matter?
If we've learned anything in the last two years it's that we need to move the healthcare industry forward with data-enabled decision making. Better data, smarter tools and streamlined processes can empower patients, providers and technology partners to mitigate risk and drive value. This is about making life easier.
We need to stop thinking of data as a one-trick pony. connectIT is an innovative ecosystem that moves and grows to support you and your patients. Whether you need to convertIT to simplify the data conversion process, seamlessly integrate with Epic to orderIT with third party vendors, or use scheduleIT to access and manage provider schedules — every aspect is smooth and focused on establishing and elevating connections with patients and vendors.
Ready to Connect? To learn more about connectIT and start revolutionizing your patient care management, reach out to Karla Christopher – Director of Engineering.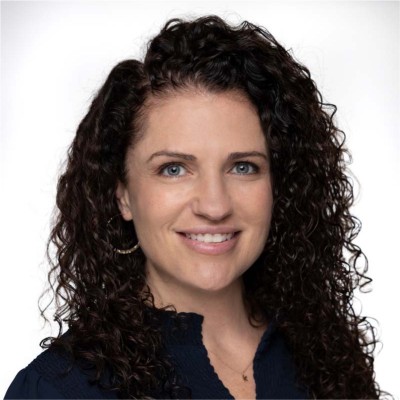 Learn about all of our service lines
Connect with Karla
karla@healthdatamovers.com
Find connectIT in the Epic App Orchard
More about Inc. 5000