Even before COVID-19 reshaped the world, consulting had been morphing and evolving over the past several years. I was seeing more and more remote positions on offer. There have been diminishing expectations to meet in person  as organizations saw the financial benefits of limiting travel. Consultants have also found that it's less stressful being off the road, which was a refreshing change. 
But there are some downsides to not being on the road too – you don't get to develop the same rapport with customers and your team as easily.  You don't get to build up your reward status with your favorite airline or hotel chain, and you certainly don't get to eat at your favorite restaurants near your work or hotel.
This last point is something that I found gratifying. When I worked at Epic and our Technical Support teams would come on-site, they would always ask, "Joe – so where are we going to eat tonight?!". I prided myself on my knack to find cost effective fare that was both responsible for my client's pocketbook and delicious for all involved. 
So in this new consulting world, where travel is limited and I don't want to rely on Uber Eats for nutrition, I have turned to the kitchen to fill the joy that I once found in hunting down the best BBQ in Charlotte, researching on the up and coming Korean restaurant in Los Angeles, or finding to die for Cioppino in San Francisco.
Welcome to Cooking and Consulting with Joe
Throughout this series I will share some of my personal favorite recipes from around the world – taking you on a journey to every continent. I will focus on quick, easy, and delicious meals that will make your mouth water and your friends think that you have been taking cooking lessons on the side!
Today we will start in Europe, with a German-inspired salmon dish. This meal is one of my favorite go-to recipes. It packs a punch of flavor and can be whipped up in 20 minutes, something to look forward to after a long day of meetings. Also, it goes well with a variety of side dishes that can easily be prepared in advance or, as I have done on more than one occasion, bought in store – there ain't nothing wrong with a little store-bought coleslaw!! 
Enjoy and bon appetit!!!
Whole Grain Mustard Crusted Salmon
Difficulty Level: Beginner
Prep Time: 5 minutes
Cook Time: 10 minutes
Ingredients:
2 8-oz Salmon Fillet (skin on)

¼ Cup Whole Grain Mustard

1 Tbsp Olive Oil

1 ½ Tbsp Finely Minced Fresh Chives or Spring Onion

Salt

Pepper (optional)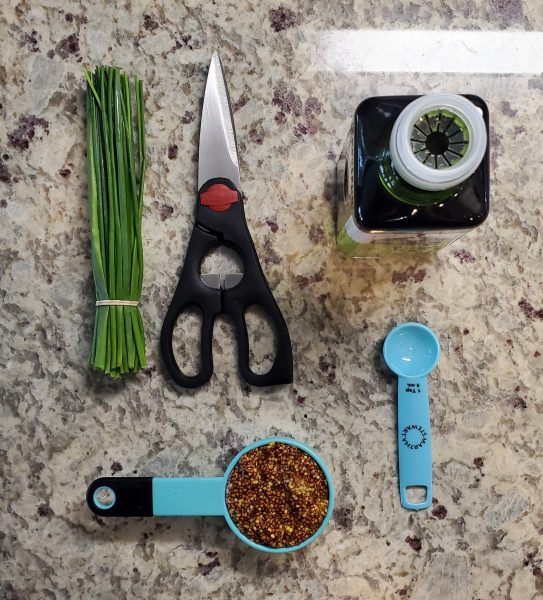 Instructions:
Preheat your oven to 400° and line a rimmed baking sheet with aluminum foil
OPTION: I do not spray any Pam or oil on the foil as I want the skin to stick to it for a later step. If you prefer to keep the skin on your salmon, feel free to slick up your foil so it can slide off easily later
2.  After finely chopping your chives, add them to a small bowl with whole grain mustard and olive oil and mix well
TIP: I like to use scissors in the kitchen and cutting chives with scissors will save you time and reduce any chance of an accident!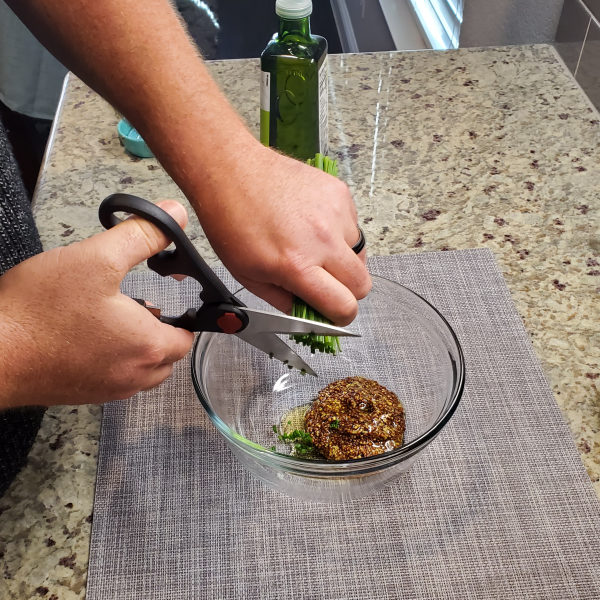 3.  Season your salmon fillets with salt and, if so inclined, pepper
TIP: The quality of your salmon will really dictate the outcome of this dish. I recommend trying to find a good fishmonger – for those in Texas, Central Market has great fresh fish!
4.  Place your seasoned salmon fillets skin-side down on the baking sheet and spread the mustard mixture over the tops of your fish. You can use a spoon or a spatula for this step, but don't be afraid to use clean hands to evenly spread the mixture over the salmon.
5.  Place the baking tray in the oven and set a timer for 6-8 minutes – depending on how well-done you like your salmon
6.  After removing the salmon from the oven, preheat your broiler and then put the salmon back in the oven, about 6 inches from the top
7.  Broil the salmon for 2-3 minutes – you want the topping to get "crusty" but not burnt, so keep an eye on it
8.  Take the salmon out of the oven and, if removing the skin, carefully slide a spatula between the skin and meat of the fish to separate the skin and transfer the filet to a plate
NOTE: If you opted to keep the skin on your salmon, just slide the whole salmon filet off the tray and don't worry about separating the skin.
9.  Serve immediately with your favorite sides and enjoy with a nice glass of white wine. See below for wine pairings.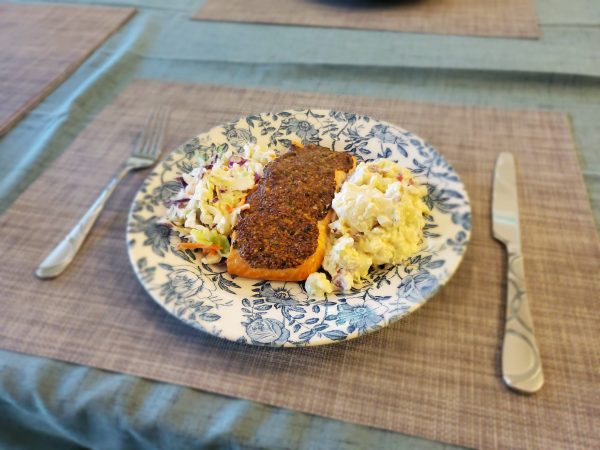 Recommended Sides
The creaminess of the coleslaw pairs excellently with the mustard and salmon. It really gives the whole dish a real German feel
If you're sticking to the German theme, it doesn't get much more authentic than these tasty, traditional egg noodles!
Spaetzle can be difficult to find and most people don't want to make it from scratch, so potato salad is a good alternative. It can be store bought and still give you those signature German flavors that pair so well with this dish
Recommended Wine Pairings
Dr. Loosen Blue Slate Kabinett Riesling
Mosel, Germany – $18
A sweeter wine that pairs excellently with German food and spicy Thai curries
Oyster Bay Sauvignon Blanc
Marlborough, New Zealand – $10
A dry wine with classic Sav Blanc flavors of citrus notes and tropical flavors that pair great with seafood
Rias Baixas, Spain – $17
A crisp wine with great minerality, green apple flavors, and a burst of lemon to finish. Pairs great with seafood dishes or easy drinking on a summer afternoon