Welcome back to Cooking and Consulting with Joe.
In this series, I will teach you quick, easy, and delicious meals that will make you happy to be working from home. These dishes will easily fit into any tight schedule jam-packed with Zoom meetings and StatusReports. 
Today I am going back to my roots – Australia!
This last point is something that I found gratifying. When I worked at Epic and our Technical Support teams would come on-site, they would always ask, "Joe – so where are we going to eat tonight?!". I prided myself on my knack to find cost effective fare that was both responsible for my client's pocketbook and delicious for all involved. 
Australia is known for many things – Steve Irwin wrestling crocodiles, beautiful beaches, Aussies who liketo party, and fauna that would sooner eat you than be eaten – Aussie cuisine however, is not typically something that comes to mind (unless you're talking about Vegemite!).
But as someone who grew up in Australia, there are some quintessential foods from my childhood that bring back amazing memories.
Today I am going to share with you one of my all-time favorites – Sausage Rolls. These are Australia's answer to Pigs in a Blanket, and they are delicious! I may be angering some Brits by claiming these as Australian, so I will give credit where credit is due: these flaky, savory pastries had their start in the UK… but the Australians have made them (dare I say) even better! These little morsels of yumminess can be prepared in advance and frozen, ready for a quick microwave when you only have 15 minutes between phone calls but want something delicious and filling.
One of my other favorite times to make these are for a potluck! Once we return to the office, bring these delightful treats to share with your coworkers and they will be keeping you on a contract for years to come!
Normally I would try to give you some suggestions for wine pairings, but sausage rolls are pretty amazing all on their own. So instead, I will share with you a few of my absolute favorite Australian Reds that you can drink WHILE you make these!
Enjoy and bon appetit!!!
Aussie Sausage Rolls
Difficulty Level: Beginner
Prep Time: 20 minutes
Cook Time: 30 minutes
Ingredients:
Filling:
½ Tbsp Olive Oil

2 Cloves Garlic

1 Small White Onion

1 Celery Stalk

4 Strips Bacon

2 Tsp Fennel Seeds (optional)

1 lb. Pork Mince

¾ Cup Panko Breadcrumbs(optional)

1 Egg

1 Tsp Salt

¼ Tsp Black Pepper
Baking and Serving:
2 ½ Sheets Puff Pastry

1 Egg

Ketchup or Tomato Chutney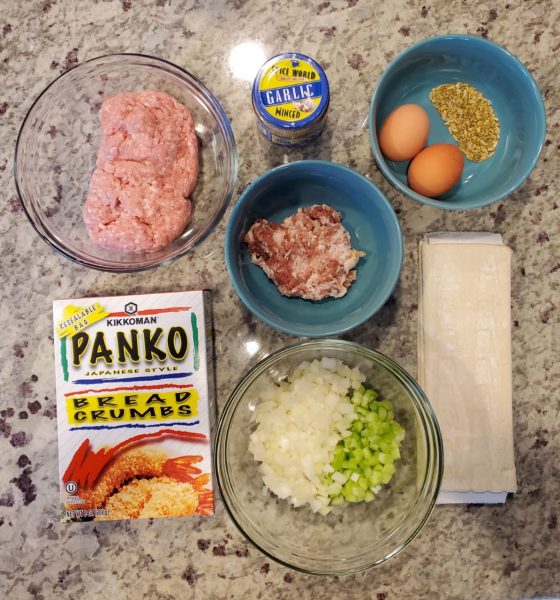 Instructions:
Preheat your oven to 350° and pour yourself a glass of wine (see below for some recommendations).

Begin by preparing your veggies – mince the garlic, finely dice the onion, finely dice the celery, and set aside.Finally, mince the bacon strips as finely as possible.

In a non-stick pan, add your oil and bring up to a medium high heat. Once hot, add in your garlic, onion, celery and cook until onions become fragrant and translucent (about 2 minutes). Don't forget to occasionally stir the mixture to prevent burning. Add a pinch of salt – about a ½ Tsp.

TIP: Do not forget to season your food throughout the cooking process. If you wait until the end to add salt, you won't get the same depth of flavor that you can get by adding it at various stages during your cooking.

Add in your bacon and cook for an additional 2 minutes –do not make the bacon crispy, however tempted you may be. Remove from heat and transfer the cooked ingredients to a bowl and allow to rest and cool for 10 minutes.
Add in the additional ingredients – pork, fennel seeds, breadcrumbs, egg, salt, and pepper. Time to get those hands dirty and make sure you mix everything together thoroughly.
Cut your puff pastry sheets in half so you have 5 sheets in total ready to roll. Be sure to read the instructions on your puff pastry to give it adequate time to thaw out. When it's time to shape the rolls, lay the puff pastry sheet in front of you so that the long edge is closest to you.

Take 1/5 of the filling mixture and shape it into a long log down the middle of the pastry. Make sure that the meat is evenly distributed down the whole length of the pastry without any gaps.

Take the other egg and beat it for about 1 minute. Using a brush, apply the egg to 1 inch along one of the long edges. Then roll up the pastry to make a log, sealing the log with the edge with the egg wash on it.

Cut into desired length – halves, thirds, or quarters usually work best.TIP: If you have time, refrigerate for 1 hour before cutting to make the rolls firmer and easier to cut.

Option: At this point you can freeze your sausage rolls and cook them another day. If you have a vacuum sealer, they will keep near indefinitely. In a zip lock bag, they should keep in the freezerfor about a month.

Place the rolls seam-side down on a cooking tray that has been lined with baking paper or sprayed with oil and brush the tops of each roll with the remaining egg wash.

Bake for 30-35 minutes or until the pastry is golden-brown.

Let cool on the baking sheets for a few minutes before serving warm with ketchup or tomato chutney!
Recommended Aussie Wine Pairings
Henschke Keyneton Euphonium
Barossa Valley, Australia – $60
One of the more expensive wines that I will recommend, but my goodness!!! Rich and dark fruit flavors make this wine sing with any red meat or just drinking by itself. Definitely a wine to share with special friends
Molly Dooker – The Boxer Shiraz
McLaren Vale, Australia – $30
Another bold shiraz that boasts hints of spiced plum, blackberry jam, and vanilla notes that round out this wine to give it a pleasant mouth feel. Excellent for sipping while you whip up some Aussie "grub"
South Australia, Australia – $50
Penfolds is one of Australia's most iconic winemakers. Most notably known for their Grange (which retails in the $500+ range), the Bin 389 Cabernet Sauvignon/Shiraz blend has been dubbed the Baby Grange. This wine may not be the wine you will want to drink while cooking this recipe though! You will want to add this to your cellar, let it age for a decade, and bring it out for a special occasion somewhere down the road.