Welcome back to Cooking and Consulting with Joe.
In this series, I will teach you quick, easy, and delicious meals that will make you happy to be working from home. These dishes will easily fit into any tight schedule jam-packed with Zoom meetings and status reports. 
One of my favorite things about consulting is the opportunity to see different parts of the country – traveling on-site and exploring new cities. Even before I worked in Healthcare IT, I was an avid traveler and wanted to see as much of the world as I could. Everywhere I visited I would try new foods – exploring the fascinating, the exotic, and the sometimes-bizarre delicacies cherished by that particular corner of the world. 
Unfortunately, I have yet to get to Africa, and the pandemic ruined my plans to travel to Egypt in 2021. But one of the magical things about cooking is being able take a culinary journey right in your own kitchen. Exploring different spices and flavors can open a whole new world of experiences!
Today we are going to make a dish called Shakshuka. It hails from North Africa/Middle East and has various iterations of the recipe. I am going to make a vegetarian friendly version of the dish, but you are more than welcome to add in some chorizo or 'nduja if you are wanting to play with the flavors – but trust me, even if you are an avid meat lover, the vegetarian version will leave you full and satisfied!
One of the awesome things about this meal is that it is cooked in one pan (if you don't have a cast iron skillet – I highly recommend getting one!). Whilst I love cooking, I want as little to do with the aftermath as possible. This dish keeps everything in one place and makes cleanup an absolute breeze.
While this dish can be eaten for any meal, due to the egg component, I love to have this for breakfast before getting into a full day of meetings. This dish is an amazing example of using a few simple ingredients and turning them into something that will wow even the most discerning palates.

Enjoy and bon appetit!!!
Shakshuka – North African Skillet Eggs
Difficulty Level: Beginner
Prep Time: 10 minutes
Cook Time: 30 minutes
Ingredients:
Filling:
3 Tbsp Olive Oil

4 Cloves Garlic

1 Red Onion

1 Yellow Bell Pepper

1 Red Bell Pepper

14 oz Can Diced Tomatoes (with juices)

1 Tsp Cumin

1 Tsp Smoked Paprika

1 Tsp Sugar

1 Tbsp Chili Paste or Powder

1/3 Cup White Wine

1 Tbsp Salt

4-6 Large Eggs

Small Bunch of Basil, Cilantro or Parsley

½ Cup Goat Cheese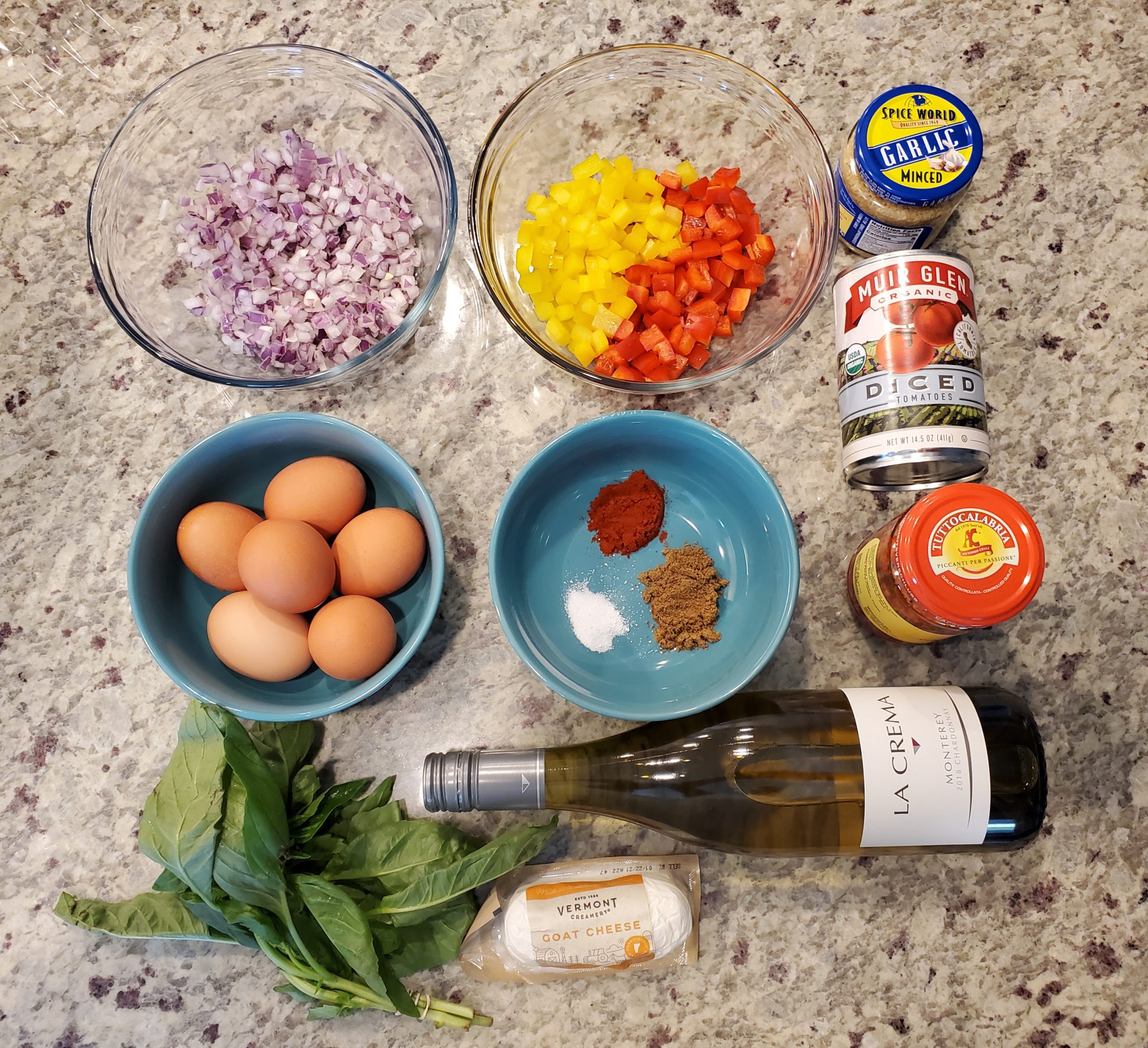 Instructions:
Preheat your oven to 375°.

Prepare all your ingredients – mince the garlic, roughly dice the onion, and roughly dice the bell peppers.

OPTION: This dish is meant to be rustic so do not get too caught up in making sure everything is diced perfectly. You can even change it up and cut your veggies into strips, if you want.


In a large cast iron skillet (or substitute for any oven-safe pan – but also… get yourself a cast iron skillet, please) add your oil and bring it up to a medium heat. Add in your onion and cook for about 4 minutes, until tender. Then add in the bell pepper and garlic and turn the heat down to medium low. Cook for an additional 6 minutes.

TIP: Do not forget to season your food throughout the cooking process. If you wait until the end to add salt, you won't get the same depth of flavor that you can get by adding it at various stages during your cooking.

Add in your spices – cumin, paprika, and chili paste – along with your sugar and salt and cook for another 2 minutes.
Add your white wine and canned tomatoes and stir everything together. At this point, try your mix and see if you need to add any more salt. If needed, add more to taste.
TIP:

I have a ramekin (small bowl) of salt sitting by my stove so I can just easily reach in and grab a pinch as I am cooking. Not only is it more convenient, but much easier to control how much salt is added! A dash can quickly turn into a pour from a shaker if you aren't paying attention.



Turn the heat down and simmer for 12 minutes uncovered. You can add more wine or water if the mixture gets too dry. Keep in mind, you are wanting it to get to a stew-like consistency. Once again, taste it as it cooks down and add more salt or spices, as needed.

With the back of a large serving spoon, make a well for each of the eggs and then carefully crack the eggs into the wells. Sprinkle each egg with some salt.

Put the entire skillet in the oven and bake for about 8 minutes. You want the egg whites to be just cooked through but not overdone.

Once cooked, remove from the oven and garnish with fresh herbs and goat cheese. Serve with some toasted sourdough bread and enjoy!



Recommended African/Middle Eastern Wines
Galilee, Israel – $25
A semi-sweet riesling, this wine can stand up to the bold flavors of the Shakshuka. With nice citrus and floral notes, it will pleasantly refresh your mouth and allow you to go back for seconds.
Badenhorst Secateurs Rosé
Swartland, South Africa – $21
This is a unique rosé as it was made from old vines and really displays the minerality that characterizes the wines from this region. The aromas are complex red fruits, spice, rose water, currants and the palate is delicious and textured with a long finish.
Chateau Musar Lebanon Jeune White
Bekaa Valley, Lebanon – $25
This wine offers a lively mix of nuances. The nose has notes of pears, lime and pineapple. The palate has flavors of tropical fruits, quince and lemon zest and it has a long fresh finish with balanced acidity.